A standardised collaboration space for conducting the EIA and writing the Environmental Statement
The Digital EIA Workspace can be used when completing an Environmental Impact Assessment for a project. It enables users in various locations and organisations to access standard templates and methods, use pre-populated policy and legislation text, collate and assess information and data. It acts as one centralised place for collaboration between project teams and stakeholders, where they can manage tasks and overlaps, visualise data and work together on outputs.
At the end of the process, the Digital EIA Workspace could be 'published' and presented as an Interactive & Accessible Environmental Statement for use in consultation and stakeholder engagement.
Impact
Enables transparency of working and promotes a culture of collaboration between specialists
Reduces 'obesity' in reporting through promoting standardised methods, and restricted word counts and formats. Currently, a typical Environmental Statement for a 500-dwelling housing development could have on average 16 chapters and 4,350 pages, and those for large scale developments can run into the tens of thousands of pages (source: surveys and interviews)
Reduces hours currently spent on tracking changes and consolidating comments
Screen 1 – The Editor
Enables all involved in reporting of an EIA to log in and work in a shared and transparent working area to write the ES: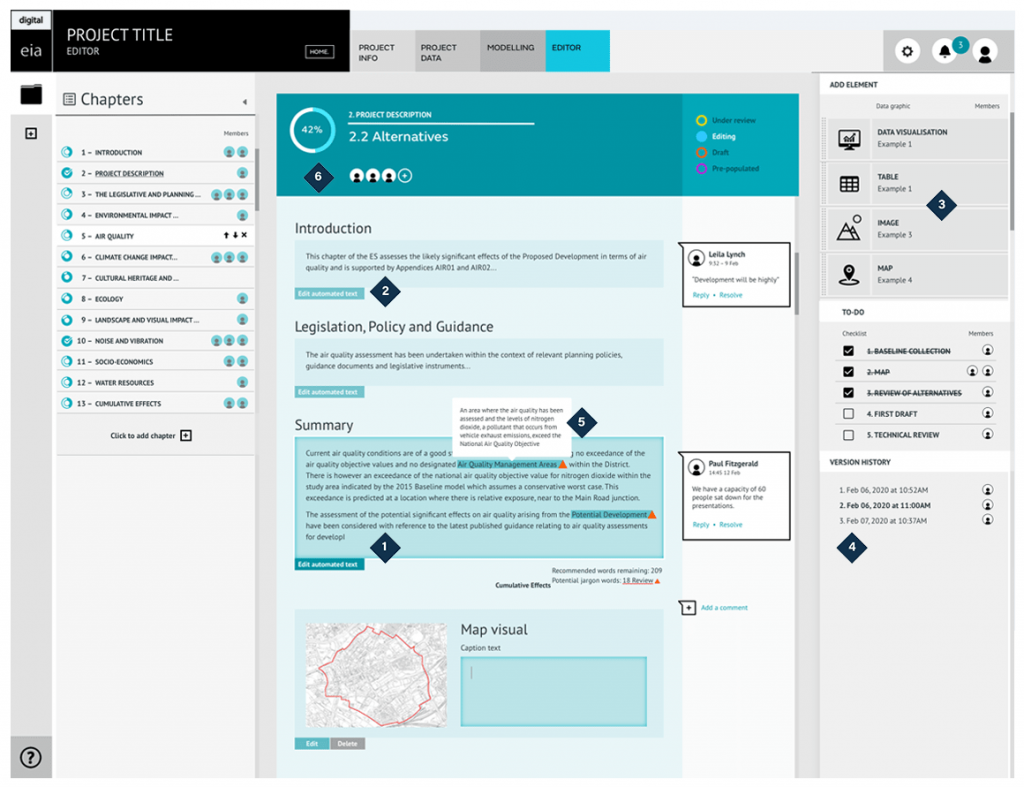 Precise writing locations are presented with word limits to avoid lengthy chapters
Select pre-populated text and hyperlinks to relevant policy legislation to avoid repetitive and lengthy chapters
Add visualisations of project data, images, maps and tables directly to the editing space
Track version history and review changes
A 'jargon buster' automatically identifies unnecessarily technical language and recommends simpler text
See the current completion status of each section.
Screen 2 – Directory
Enables users to see who else is collaborating in the EIA workspace, with EIA coordinators also being able to search and add new contributors and set access levels: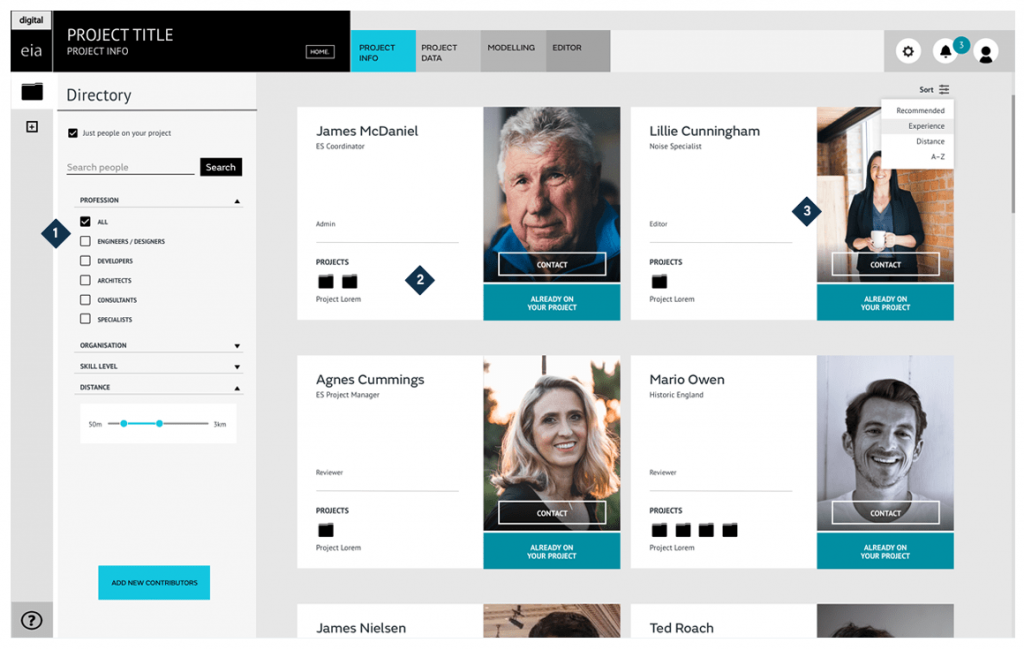 Filter by location, specialism and experience
Ability to add new users to the project workspace and set access levels
Shows profile information for each person, such as their responsibilities, tasks, and actions, plus job titles, contact details and past projects.
Screen 3 – Impact Modelling
Impact Modelling forms part of the Digital EIA Workspace idea. It allows users to overlay different scheme details with existing open data and project data to predict the changes in environmental effects. This tool could be customised and 'powered up' by adding extra assessment tools from the plug-in marketplace.
Drop precedents into the scheme and test
Option to see 3D visualisations
Test environmental impacts on different stages of the development. This could potentially be automated
See data that has been connected to this project via the Datahub.
Screen 4 – Plug-ins for Advanced Functionality
Users can add or purchase plug-ins to add new functions to the workspace. These may be developed by SMEs and other businesses who have taken the opportunity presented by the workspace and Datahub to develop new products and services: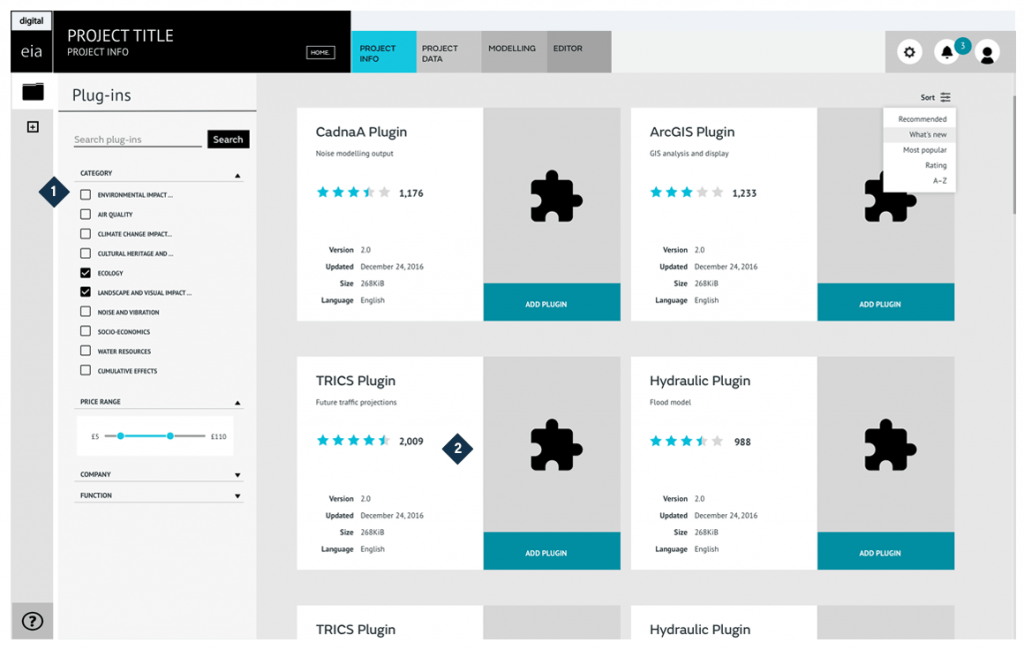 Filter plug-ins by category, price range, company and function
User generated star rating reviews to measure the reliability of plug-ins.